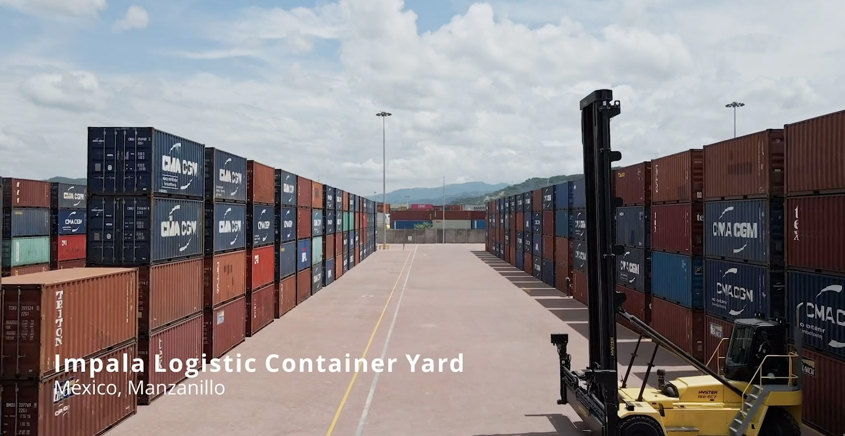 12 May 2023
Impala logistics container yard, Manzanillo, Mexico
Impala terminals Mexico, Manzanillo
In Mexico, we operate a modern, best-in-class metals and mineral concentrates handling facility adjacent to the Port of Manzanillo.

Our operations at this location provide port, storage, laboratory and other value-added services for products such as copper, lead and zinc and other precious metals.

Our on-site laboratory is equipped with state-of-the-art technology and expert staff that carry-out accurate and timely assaying for producers delivering concentrates into our facility prior to shipment. The site also has a dedicated yard for stuffing and unstuffing containers delivered to and from the port of Manzanillo.

Our Manzanillo facility has been built to withstand extreme weather conditions and to protect all products and cargoes kept and handled within its boundary at all times. All buildings include reinforced foundations and structure and strategic runoff channels and canals for excess rainwater are installed throughout the site. Landscaped walls shield the facility from high winds whilst also reducing its overall visual impact.
130,000 m2
Warehouse facility
3,000
Container capacity storage yard (from mid 2021)
Impala logistics container yard, Manzanillo


Impala Terminals new 42,000M2 Logistics Container Yard (Impala Logistics Container Yard) is situated less than 300 metres from the entrance to the city's port complex. The new yard enhances the Group's existing freight forwarding service by providing customers with a location to store, maintain and repair their containers within close proximity to the highly congested port, saving both time and costs for transportation.


The new site has the capacity to store nearly 100,000 TEUs annually at any given time. The new service is offered to all international container shipping lines as well as importers and exporters operating within both the local and international markets.